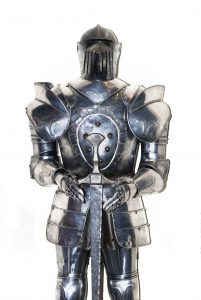 I can take care of myself.  Women, in most situations can take care of themselves.
But sometimes,  it is nice to know that a male will come to your rescue.
Yes, I was well protected this weekend.
I admit I was being a little lazy and didn't want to get up–of course it was 6:45 a.m. and I am RETIRED!
Anyway, my  daughter's  method of encouraging me to get out of bed was to  hit me (playfully) with the decorative pillows on the bed.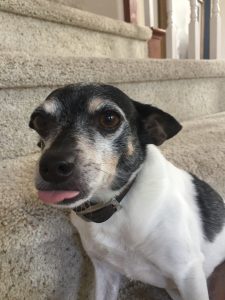 That's when it happened.
That is when I was rescued.   My rescuer is old, at least 91!
He is small, and  frail with  very spindly legs, but he is surprisingly agile for his age.
Max–91 in dog years–jumped up on the bed, growled ferociously and leapt at Jazz.  He didn't stop and think that he weighs eight pounds and is barely 8 inches tall. He thought he was David fighting Goliath.  I was impressed and felt humble that he would save me and not even think about his size.
Yes, I did save my daughter from my gallant knight in grey. (No injuries on either side, but my daughter snarled  louder than Max when I grabbed him in mid-air.)
When it comes to chivalry, size doesn't matter, nor does age.