Water has never been my best friend.
Ok, I can tolerate it for  a shower.  However, it took me a long time to handle a shower because I was used to a tub where the water stayed away from my face.
For Number 1,  water is his mistress–nope not jealous.  He grew up swimming in the blue, balmy waters of the Mediterranean.  If he could choose, he would be a dolphin in his next life.
So, as you can see, this  is a bit of a conundrum for us.
Yes, I learned to swim at the local pool–6 miles from the farm, but…I never put my head in the water.
I do have my reasons.  I can't stop the water from surging up my nose.  Water funnels deep into my ears and,  of course,  I end up with an ear ache.  Finally,  my glasses were so thick, even as a child, that I couldn't see underwater, even if I did open my eyes.  Which I never did.
So once we started traveling it was usually to a place with a big body of water.  It would look gorgeous, but…it was always too deep for me to put my feet down on the sand.  i.e. my face would get wet.
I tried.  I dog-paddled a lot.  Yes, I got laughed at.  Yes, he did try to teach me.  But he gave up quickly–he's smart and he knows a lost cause.
Eventually, I managed the breast stroke with my head above water.  It was a better variation of the dog-paddle.
Oh, and I can swim on my back as long as no one is near me to splash water on my face.
Warm, sunny, southern California means there are a lot of pools and a good reason to use them.
Our new home, came fully equipped with a gorgeous pool.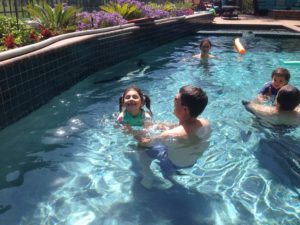 As you can see, I am absent from this picture.
Believe it or not, my doctor turned me onto this and helped me conquer my husband's mistress.