Over the past three years, hundreds golf balls have bounced off our trees, dented the outdoor grill and refrigerators, wizzed past our heads, plopped a foot behind us when we are swimming, and broken two windows at our cost of 500 dollars each.
Now some of these golf balls have been bright yellow, orange or pink.  I have to admit that I never knew golf balls could be so colorful.  Some of them are dented, some are quite muddy, and some looked pretty chewed up.
HEAVENLY GIFTS
The last group could be the result of Max finding it first and using it as a  chew toy.  To be honest, Max thinks the golf balls are manna from heaven.  He doesn't have a chance to get bored, because as soon as he has lost or buried one ball, another just drops from the sky.  God forbid if they land in the pool, because he trembles, shakes and races from one end of the pool to the other trying to figure out how to get to it.    We take pity on him and take it out, which we soon regret  because he insists on dropping the slimy orb into our laps, hoping that we will throw it.  Needlessly to say, we tire of the game long before he does.
A SIGN FROM ABOVE?
Not long ago, a special ball landed in the yard.  It was the traditional white,  but this one came with a message.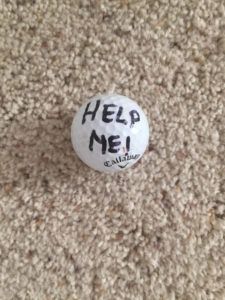 CALL FOR HELP?
This ball caused a great deal of consternation.  Did this come from a neighboring house?  After a quick look across the golf course,  I realized that to hand throw a ball a half a mile from across the course would have been almost impossible.  This is especially true  when you think a weaker person would need help, and not someone who could throw a ball one half mile.
Kidnapped Golfer?
Let' get real!  A kidnapper would not put a driver into the hands of someone they kidnapped.  That is unless the kidnapper is really dumb. And why take someone to a place where you have to pay 240 dollars a round to play?
THIRD OPTION?
GOLF BALL SEEKING REFUGE
This poor golf ball is tired of being teed off, driven for miles with a smack and it knows if it lands in a backyard a dog will bury it deep in the ground.  Then,  a few months,  later it will be recycled and used by an even less experienced golfer.
SAFE HAVEN
I am giving this ball sanctuary!  This ball will be placed in the china cabinet.  It should be ok until an estate sale and then it's journey will start all over again with our great grandkids.